45 av titlene i WINGS-serien og 20 fra Traditional Tales er utgitt også som Big Books. De egner seg svært godt til shared reading i mindre grupper eller i klassen. 
Størrelsen er 36,5 x 50 cm og de koster 265 kr (nivå 2 - 20) og 285 kr (nivå 21 - 26) pr. stk.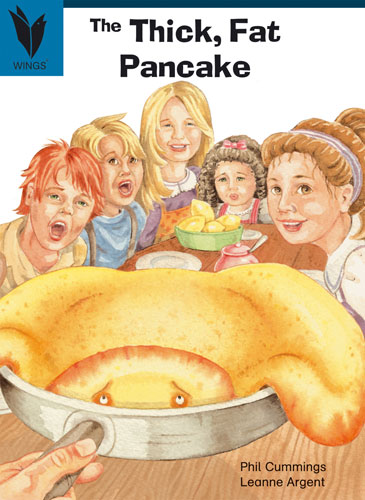 WINGS Big Books
Level 2          Ben's Bath, The Fish and the Cat, The Magnet, Share Bear
Level 3          The Alphabet Song, Good Dog, The Mean Giant,
                         The Monster, Sleepy Zoo
Level 4/5      Around and about, Chicks Don't say Quack, Crabs on a Rock,
                          No one Likes Me, Snails and Slugs
Level 6/7       Days at the Beach, Make a Worm Farm, The Mango Tree, 
                           Melon for Tea, The New Butterfly, Oh No!, Six Little Chicks
Level 8/9       Max and the Clouds, Trees, What a Waste
Level !0/11    Five Beans, Cluck!,Quack!, Moo!
Level 12/14   Making a Magnet, The Tricky Truck Track, What Shape is Water?
Level 15/17   How a Butterfly Farm Works, Ling's Monster, Lovely Lunch,
                             Wetland Birds
Level 18/20   The Best Pet, The Hatchling, The Night Dragon, What's This?
Level 21/23   Still as a Statue, Big Ned and the Eggs, Kitchen Scientist
Level 24/26   The Choclate Maker's Secret, Cyril the Dragon, Little Porro,
                              Mighty Minibeasts, Sly Tom
Traditional Tales Big Books
Level 5              The Gingerbread Man

Level 8              The Three little Pigs, The Ugly Duckling
Level 10/11     The Frog and the Ox, Little Red Riding Hood
Level 12/14     The Fox and the Crow, Poor Old Lady, The Billy Goats Gruff
Level 15/17     Town Mouse and Country Mouse, Babushka, Goldilock and the Three Bears, 
                               Jack and the Beanstilk, King Midas, The Thick, Fat Pancake
Level 18/20     Puss in Boots, The Bremen Town Musicians, The Emperor's New Clothes
Level 21/23     The Pied Piper of Hamelin
Level 24/26     Aladdin and the Lamp